Anhelina Nevmerzhytska is living in Fort Ripley, but there's no doubt her mind is often thousands of miles away.
A 16-year-old exchange student at Brainerd High School, Nevmerzhytska is living with Jill and Jeff Guith northeast of Fort Ripley. She came to the United States in September after receiving a Future Leaders Exchange Program grant from the U.S. State Department.
Since Russia invaded her home country Feb. 24, she has had to watch the war unfold away from her family and loved ones. As a way to cope with her own feelings while helping those on the frontlines, she is spearheading a fundraiser, simply called, "Stand with Ukraine."
"I'm not sure how to feel about it," Nevmerzhytska said. "I'm not sure how my emotions work. I'm just feeling guilty. That's my reaction, which is kind of wrong, I guess. I would need to feel empathy, but I cope in a different way, I guess. I decided that I need to do something in order to stop feeling guilty."
After seeing fellow Ukrainian exchange students who are living in larger cities participating in protests and raising awareness for what is happening back home, she knew she had to do something. She eventually came up with the idea to sell T-shirts and crewneck sweatshirts with a custom-made design, all of the profits from which will be sent back to Ukraine.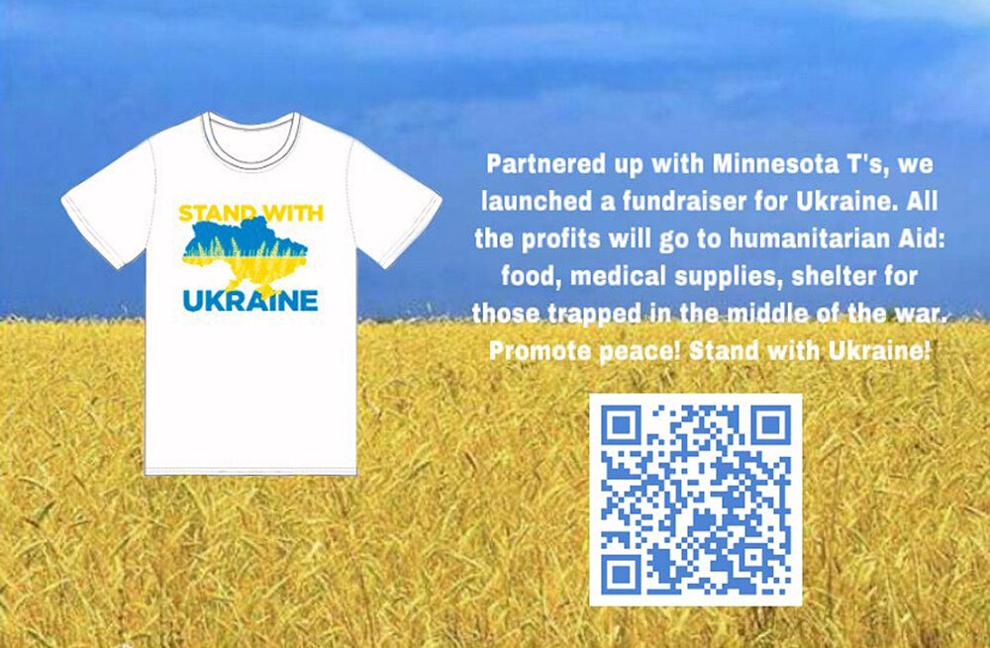 She said it was a way to raise money for humanitarian aid, food, shelter, medical supplies, ammunition and more for those impacted by the war and those who are battling on the frontlines. At this time, she said the money will go to wherever it's needed most at the time she decides to submit her donation.
"Big organizations, they do help a lot but they don't help those individuals, people fighting on the frontlines," she said. "When they don't have ammunition, it's scary."
Selling shirts also serves the dual purpose of raising awareness and showing support for the place she calls home. She has partnered with Minnesota T's of Brainerd to create the shirts. They feature an outline of Ukraine in the colors of the nation's flag, blue and yellow, with the words "Stand With Ukraine."
For the design, she had an idea of what she wanted to do, but she admitted she is "not a great designer." With some help from her friends, she enlisted BHS Visual Arts Teacher Richard Jensen to bring her vision to life.
The price of a T-shirt is $25, and a crewneck is $35. Those who live in the area can pick up their shirts at BHS, if they so choose, or they can have their order shipped. Allowing a shipping option was a late addition to the fundraiser so those who don't live in the Brainerd area can more easily contribute.
In the first week of the fundraiser, Nevmerzhytska had already raised more than $2,500. That was achieved mainly just through friends sharing the information on social media and BHS posting banners in classrooms and on the district's TV channel.
She is also hoping to get help in getting the word out about her efforts through the Brainerd YMCA — where she has spent a lot of time volunteering during her time in the U.S. — and at her favorite cafe, the Coco Moon Coffee Bar in Brainerd.
She said she doesn't necessarily have a monetary goal in mind, but rather is just hoping to raise as much as she can, as quickly as possible.
"I don't have a goal, but the more, the better," Nevmerzhytska said. "My goal is to make it happen as fast as possible, because I feel like one week is already too long. I need to start moving."
That sense of urgency is understandable.
Her hometown of Lutsk, a regional center with a population of more than 200,000 people in northwest Ukraine, near the border with Poland, has seen its military airfield bombed twice, first on Feb. 24 and again, March 11. The latter of those attacks resulted in four deaths.
Attacks in Lutsk and the surrounding region have been rare, so far. Most of the fighting has been in the northern and southern parts of the country, as well as around the capital of Kyiv.
Her mother and father are still in Lutsk. Both of them are safe, but as doctors, they cannot leave the country.
"But, even if they could, I don't think they would," Nevmerzhytska said.
"Still, I'm kind of scared because my mom is a military doctor," she continued. "It's just scary, because Russia kind of targets military facilities, and I don't think hospitals would stay (safe) for long."
Since the conflict began, she has been able to stay in contact with them.
"Their way of coping with things is the same as mine," Nevmerzhytska said. "I guess, because they are doctors and they've seen a lot in their lifetime. It's not like they're ignoring it, but they don't want me to panic. They're not panicking themselves. That's the way they cope with it."
She does have relatives who live in Kyiv, but she said they were able to get out to safety.
Her closest connection to the fighting is a friend of her older sister, Anna, who also lived with the Guiths and attended Little Falls Community High School as an exchange student. Anna is currently living in San Francisco, but shared in a blog post that her friend is in the hot zone.
"It's hard," Nevmerzhytska said. "He's pretty young. A lot of young people are fighting."
Before the war began, the first few months of her stay in Minnesota were fairly typical of most exchange students. She made friends while learning American culture — which she said is much different from Ukraine.
Going from a bustling city known for its 13th century castle to tiny Fort Ripley has certainly been a change. Still, she said she has loved her time in Minnesota and adapting to life in the U.S.
"It's really different," Nevmerzhytska said. "I just like to see myself, kind of, growing, being here, being all by myself and just trying to adapt to new circumstances."
She was scheduled to return home, June 9. Right now, that is up in the air. The exchange program will be extended if it is not yet safe to return to Ukraine, when that time comes.
In the meantime, she can't help but feel a range of emotions as she watches the events unfold from afar.
"Anger," she said. "It's not a typical reaction, I guess. I feel empathy, for sure, but it's kind of like, the longer it goes, the more it turns into kind of, like, sadness, anger."
For now, all she can do is help in any way she can, which includes her fundraising efforts.
She said the hope of peace and for the safety of her loved ones is always there, but there's no way in knowing how things are going to turn out, at this point. Ultimately, she wants everyone to support her homeland in any way they can.
"I would just like people to not stand by, and actually help out and support Ukraine," Nevmerzhytska said.